Thrive Themes Product Rating
---
Thrive Themes is loaded with excellent features. Such as Quiz Builder for generating more leads help you grow your customer base. Thrive Optimizer analyzes your landing pages and helps you increase traffic numbers and conversions.
There is no coding needed to use Thrive Themes. Most items are plug and play. However, I suggest using the knowledge base and watching the tutorials to learn exactly how to operate the tools to get the best results.
Buying each item separately would cost several hundred dollars. You can purchase these items separately, or as a full bundle. Membership fees start at only $19 per month.
The Thrive support team helps you tailor the system to suit your needs. Most ticket resolutions are complete within a 24-48 hour window, or you can email for faster answers. Thrive offers unlimited support.
My Personal Experience With Thrive Themes
When I found Thrive Themes, I was already very frustrated with trying to figure out how to work with WordPress and develop my website. There was a huge learning curve for me as I had never worked with WordPress before. Even using the WordPress templates was stressful. When I saw beautiful pages I wanted to create, I would download dozens of templates just to find out how much I would have to customize them to come up with the designs I had seen.
When I started reading about Thrive Themes, I was so relieved. It just made sense to me. I am a drag-and-drop person. I do not want to deal with coding and HTML and all that stuff. I want to focus on what I want to say and how I want it presented. Thrive Themes let me do just that.
The bonus was all the other solutions that are integrated into Thrive Themes. I did not have to go find a bunch of other plugins. Thrive Themes provided me with an all-in-one solution. There are no conflicts between different plugins, it all just works seamlessly together. Now, I am building multiple websites because it is so much fun to do. With Thrive Themes it is easy, and I am enjoying the creativity of bringing my ideas to life.
Table of Contents
Overview
Pros and Cons
Products Summary
Membership
Competitors
Support
Bottom Line
Overview
Whether you are a new business owner, or you have several years under your belt, building a website is not the easiest thing to do. Unless you have an IT degree, it seems like you constantly have to fiddle with site plug-ins, coding, and themes. Then, trying to get everything set up the way you want may not be the best way to convert visitors. So, then what?
This dilemma is why Thrive Themes exists. The capabilities like using drop-and-drag features for WordPress alone are worth the membership fees. This site allows you to build a customer base, test your landing pages, and provide valuable surveys to increase social media views.
Thrive Ovation lets you show off the good things consumers are saying about your business. Do you want to offer courses on your website or show tutorials? Thrive Apprentice lets you use WordPress to build training classes. From Thrive Architect to Leads, this website builder gives you simple to use tools that help you create a premium site.
When you need to optimize your page to generate leads, then Thrive Themes provides a quick way to update your site. Boosting your social media presence has never been easier than with Thrive Quiz Builder. Keep reading to find out more in-depth details about each of the various segments of Thrive Themes.
Name: Thrive Themes
Membership (Individual): $19 per month includes all products and Thrive University;
Flagship Products:
Thrive Theme Builder
Thrive Architect
Thrive Leads
Thrive Ultimatum
Thrive Optimize
Thrive Quiz Builder
Thrive Headline Optimizer
Thrive Ovation
Thrive Apprentice
Thrive Comments
Thrive Clever Widgets
Thrive University
Top Features:
Ease of use
Quick page loads
Drag and drop tools
Focus on lead building and conversions
Vast learning and knowledge base
Great support
Top Competition:
Elementor
Beaver Builder
OptinMoster
SumoMe
Elegant Themes (Divi)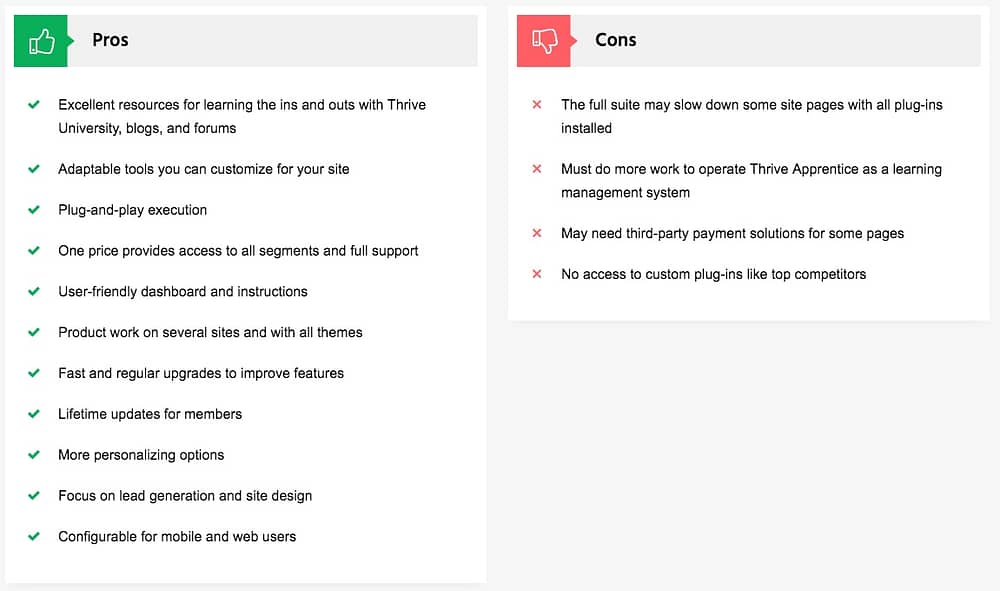 Products Summary
Monthly membership gives you access to all the following tools. It is possible to build a web page in less than half an hour with these tools. When was the last time you could say that about a website builder?
Theme Builder
Membership comes with the Shapeshift theme. This customizable template is fast to upload, giving you a page you can tailor with your colors, logo, and information in just minutes. Change up the layout, modify content on your 404 pages, or optimize your landing page to captivate your target audience.
To use this tool, all you have to do is install the product. Then, follow the creative prompts. You are all set to personalize and publish your site updates in minutes.  You can learn more about Thrive Theme Builder here (or click the image below):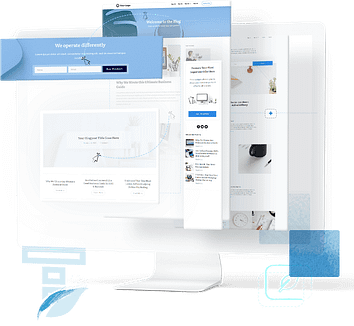 Architect
Now, you can use live tracking to change your site. Move things around and see exactly what your site will look like when you are done. Architect lets you create pop-ups to tempt your viewers. Use this tool to check your page speeds and see which layouts perform better for Google Ads.  Thrive Architect is a must-have tool.  You can learn more here (or click the image below):
Leads
Getting more people to your site is the key to growing and increasing profits. With Thrive Leads, you can adjust where and how opt-in pages show up on your site. If you want to grow your email list, then this tool may be what your business needs. You can do more with Thrive Leads versus Optinmoster and Ninja Popups.
Some of the best features of Thrive Leads are seven form choices, split testing with clear pick winner, and product delivery service. You also don't need to be tied to Google Analytics with this tool because the onboard diagnostics give you every data set to see what changes are making the most impact.  You can learn more about Thrive Leads here (or click the image below):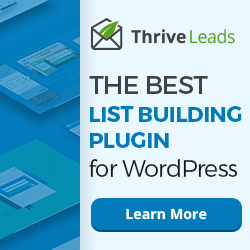 Ultimatum
Urge your customers to make a purchase with timers you create to motivate buying. You can even lock down an offer with this plug-in. This tool allows you to put a sense of urgency into your marketing ploy. Buyers will see countdowns and special promos on the pages you want to showcase them using the Thrive Themes Suite and Ultimatum.
This tool lets you change the look of the timer, including colors and styles. You can extend or shorten the time to suit your needs. Finally, offering promos for new customers helps build your loyal followers.  You can learn more about Thrive Ultimatum here (or click the image below):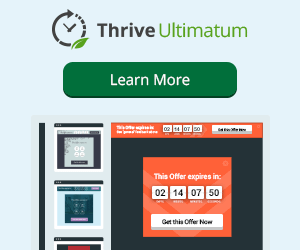 Optimize
If you want to save money on testing site pages, then Optimize might be the tool. Complete all your page testing with Thrive Optimize. You can use two versions and test them with Optimize to see which one will boost your site clicks fastest. It links right into the Architect plug-in to let you track your conversion rate.
This is a premium tool you have access to with your monthly membership.  You can learn more about Thrive Optimize here (or click the image below):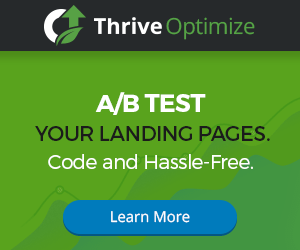 Quiz Builder
If you want to target your services to the viewer, then Thrive Quiz Builder is essential to your business. This survey tool lets you focus your promotions on the answers people give you when they visit your page. For example, if you sell several categories of products, then a short quiz can help you find out which items to offer in real-time.
You can also show the results of quizzes to web browsers through your social media accounts or on the website. Using the answers to fun questions can spark conversation and increase awareness of your brand.  You can also create great sales funnel type questions and trees to guide your prospect to the exact products and solutions they need. 
With Thrive Quiz Builder, there is no need to spend hours coding a survey.  You can learn more about Thrive Quiz Builder here (or click the image below):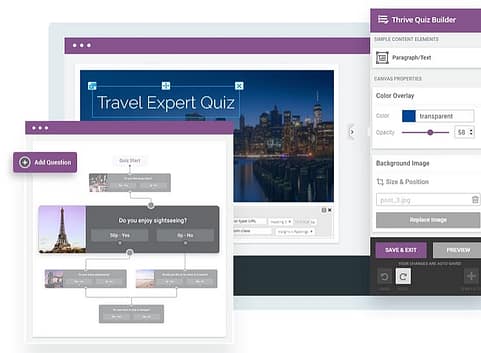 Headline Optimizer
If you use content writers to generate new and exciting information for your website, then it is helpful to know the most eye-catching headlines. Thrive Headline Optimizer does the figuring. Pop in lead-ins for top articles, or see what your article title will rank on the web.
This tool lets you target your content to the readers who want to see and hear about your products and services. Visual representations of the data and hard numbers let all learning types clearly see which headlines and hooks will generate the most interest.
You can learn more about Thrive Headline Optimizer here (or click the image below):
Ovation
Busy company owners need tools that speed up computer work. Thrive Ovation automatically tracks testimonies from previous clients. The tool will:
Automate testimonial gathering
Gives you access to answers in WordPress
Convert social media posts to testimonials
Lets you post your testimonials where and how you want
If you get a lot of feedback, then this tool will collect the information in one convenient area. You can easily convert the comments to testimonial form and adjust your font and size. Use Ovation to help you post these reviews in clear view of web browsers.
You can learn more about Thrive Ovation here (or click the image below):
Apprentice
When you plan to offer online training tools, you may need a developing option that helps you organize the content. Thrive Apprentice adapts lesson pages, course programs, chapters, and training options to let you offer educational products and services.
This tool gives users real-time data on course completion. You can change the look of each page by giving it a customized design or style. You can brand the pages and organize the content the way you want. Then, you can present it to readers in the most readily acceptable fashion.
You can learn more about Thrive Apprentice here (or click the image below):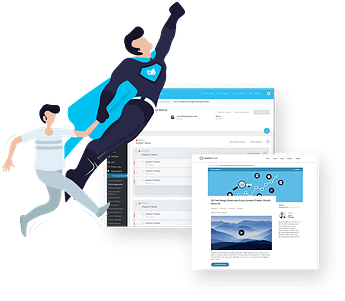 Comments
This valuable tool lets you take the things people post on your blog and social media sites and use them to get more customers. How does this work? Comments track things people say, and it can offer payment prompts or provide a call to action.
Thrive also takes comments and makes voting fun by creating a game-like atmosphere. You can show up and down votes with this tool.  You can learn more about Thrive Comments here (or by clicking the image below):
Clever Widgets
The Clever Widgets software tool smartly organizes your web content by the viewer. This technology directs information to the people who are looking for it.
For example, a medical site might have dedicated pages for several health conditions. If a person wants a diabetic diet, then clicking on a diet will direct them to the right area. The site will then send snippets and post information along the side according to the foods and choices they make on the page.
As the person clicks on things like sugar-free recipes, or low sugar diets, then the prompts will direct them to diabetic diets. For people with high blood pressure, low-salt diets will come to the forefront.  You can learn more about Thrive Clever Widgets here (or click the image below):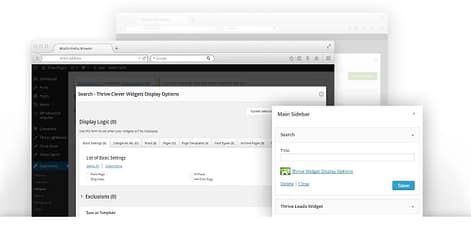 Thrive University
Thrive Themes provide you with FREE access to more than 20 different guides, training webinar recordings, video courses, and interactive content.  These conversion optimization tools for WordPress will help you to build your online business.  
To access this extremely valuable content, all you have to do is create your Thrive University account, again… it's completely free.  You can review Thrive University here (or click the image below):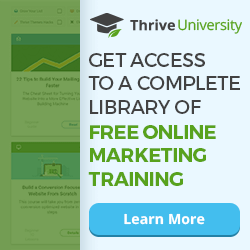 Membership
Whether you need a full website, theme, or plug-in builder that can revolutionize your site, then Thrive Themes may accomplish this with a full-time membership. For a small monthly fee, you get immediate entry into the entire suite of products. From site testing to testimonial posting, your business can access a full array of online business building products.
You can build your site and customize it without a bunch of phone time with the tech team. You can avoid developers and analyze pages in real-time. Track your performance metrics, pick the most attention-grabbing headlines, and choose which page design sparks the highest ratings on top search engines with Thrive Themes.
Member Benefits
Free real-time access to new plug-ins and updates
Permanent knowledge base and support help
Member webinars to update you with the latest and newest technologies and innovations
Invite the team to critique your website and offer improvements
Perks and bonuses like helpful templates, video tutorials, and how-to checklists
Marketing classes for members only
100 percent happiness guarantee
No-fuss integration with all your other sites
Price-locking saves you even more money
Pricing and Membership Fees
Monthly Membership fee for Individuals – $19 provides access to all services on 25 personal sites with unlimited support
Monthly Membership fee for Agencies – $49 gives access to all plug-ins and themes on 50 client and personal sites with full support
Other Options – single licenses for one product or five license bundles (see individual products above for pricing details)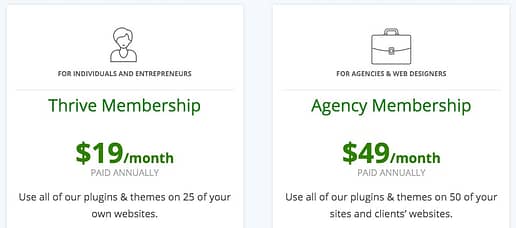 FAQ – Thrive Themes Membership
What comes with the Thrive monthly membership?
Everything in the suite. No hidden fees or exceptions.
How is the membership paid?
You have the choice of paying the Thrive Membership fee either annually or quarterly.
Will the membership help me with my website?
Yes. You can customize your pages to fit the needs of your business.
Does customer support come with my membership?
Yes. You can contact Thrive Themes via email or by submitting a support ticket. The team often responds to tickets within 24-48 hours. Email answers are generally faster.
Can I get a refund anytime I cancel Thrive Themes membership?
Thrive Themes will only offer a refund within the first 30 days of purchasing a membership.
You can learn more about Thrive Membership and Pricing by clicking here (or the image below):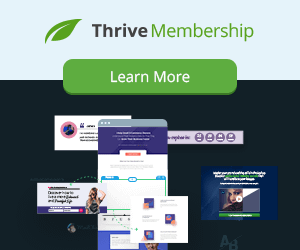 Competitors
The biggest thing that sets Thrive apart from the competition is the access. You get instant everything as soon as you join. You can even watch tutorials and take classes to show you how to operate any segment. There are marketing classes and instructional content only for members.
Sumome – Thrive versus Sumome is not much of a comparison. To be honest, the free version of Sumome leaves a lot to desire. There is not much you can customize without going premium. The yearly cost is nearly double the access for Thrive membership.
Elementor – Thrive outranks Elementor on marketing design. The software excels in boosting exposure and building numbers. You can purchase Thrive Architect licenses for a one-time payment, or gain access to the full system for a monthly charge. Thrive works seamlessly with dozens of other sites where Elementor does not. The latter excels in a few areas. Elementor has better design options. The pages flow a little better, and the pop-ups fit the pages more naturally. However, you can test plug-ins and develop a better design with Thrive.
Optimonster – is an easy site to use, but for the features similar to the Thrive Leads software, the cost is the deal-breaker. Thrive is much more affordable. You can almost purchase a yearly membership to the suite for the cost of one Optinmonster license.
Divi – has page builders that compare equally to Thrive Architect and Leads. The area where Divi outranks Thrive is in custom design. An entire group of Creative Pages fans develops custom pages to share with other enthusiasts.
Other services out there offer similar benefits, but the costs and features are very inconsistent. For the monthly or onetime fee, Thrive outperforms most of the others on the market.
For a full and more comprehensive comparison of Thrive Themes and it's competitors, click here (or the image below):

Support
Thrive uses a private and public forum where you can submit tickets to get answers. The people typically respond quickly. The information can be a little heavy, but the response time and attention are genuine and helpful. 
With my personal experience with the Thrive Themes Support Team, they have always been very responsive.  Whenever I've had a question about something, they usually have responded within a couple of hours… many times within 30 minutes or so, 24 hours at the very latest.  In every situation, they have resolved my issue and guided me to keep me moving forward with my project.
To learn more about Thrive Themes' support system, Click Here (or the image below):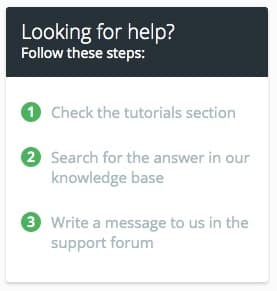 Bottom Line 
While Thrive Themes has many outstanding qualities, there are some limitations. For example, Apprentice is one of the tools that does not come with a way for people to pay for the training. It also has no way to send the material to people. You will need another service to deliver your content.
With that statement, Thrive Themes is worth the cost. The fee is minimal for the access and features you get in return. The support team is great in general. The ability to customize training materials and develop each page to suit your brand is outstanding.
Since there is no coding, you will not spend hours typing boring lines into the computer only to find out you have a bad line, or ten, somewhere in the mix. Overall, yes, I recommend Thrive Themes to any business or person working as an independent contractor. Bloggers and videographers will get just as much use as small businesses and national brands.